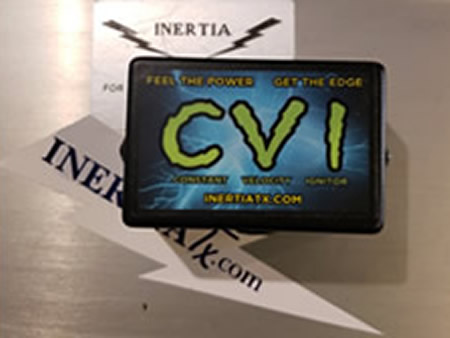 The INERTIA CVI Accelerator & CVI Accelerator-2 enhances the performance and torque on all gasoline vehicles, 4, 6, 8, 10 and 12 cylinder motors.
By increasing a constant voltage and current to the engines ignition coil while under load of driving.

How the CVI Accelerator works:
Most ignition systems are comprised of an inductive coil and points inductive or electronically trigger module. The coil is charged up and triggered to induce a secondary step-up higher voltage. The performance CVI Accelerator-2 model carries a greater and longer energy discharge to the coil or coils for more Horsepower & Torque over the CVI Accelerator standard model. The CVI Accelerator burns fuel more completely and efficiently. The CVI Accelerator's circuitry optimizes the rise and saturation time of the inductive coil with added storage energy to provide the perfect increased Spark thus allowing engines to have:
Increased Horsepower & Torque,
Better Fuel Mileage,
Easier Engine Starting,
Quicker Acceleration,
Higher Top Speed,
Smoother Running,
Less Carbon Built-up and
Less Pollution.
This device was first made and tested in the 90s for the uses on racing cars as a secret weapon for more RPM speed. But now has been tuned for the standard every day street gasoline engine.
Usage of the INERTIA CVI Accelerator or CVI Accelerator-2 will NOT affect your ECU or electrical system under any circumstances.